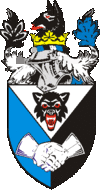 Dag Thorgrimsson, called Blackwolf (modernly known as Jeff Skevington)
Tierced per pall argent, azure and sable, two dexter gauntlets clasped in chevron inverted argent and in chief a wolf's head caboshed sable.
For updates and corrections, please e-mail precedence@cynnabar.org. Include your SCA name, modern name, awards to add, and date received.